Artist Portfolios A-Z (then click artists name)
Upcoming Events
Join My Email List
Past Events
Central Bucks Chamber of Commerce "Studio/Gallery Tour"
Location:
Eight Various Venues
Event Dates:
5/11/2013 - 5/12/2013
Reception:
5/11/2103
11am - 4pm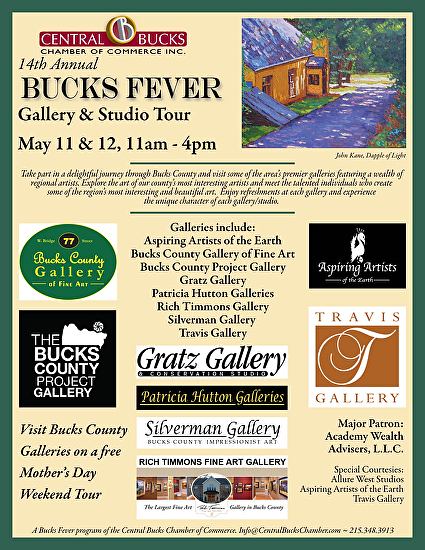 The Central Bucks Chamber of Commerce proudly celebrates their 14th Annual Byer's Bucks Fever Studio/Gallery Tour. This year the featured studio's and galleries are Aspiring Artists of The Earth, Bucks County Gallery of Fine Art, Gratz Gallery and Conservation Studio, Patricia Hutton Galleries, Rich Timmons Studio and Gallery, Silverman Gallery, and Travis Gallery.
Each venue will host a two day event featuring a special attending artist or demonstration by and artist. You'll take a self driving tour along the Route 202 Corridor from New Hope to Doylestown PA stopping to visit each gallery and studio to see what special event they have planned and which artist will be featured. Tour goers will have the opportunity to see the work of hundreds of artists and crafts people.
Bucks County Gallery will be hosting artists Sandy Askey Adams, Anne Kullaf, Larry Chestnut, and Jacalyn Beam. You can watch them create paintings and see their individual techniques.
Michael Stumpf will be exhibiting remarkable heirloom nativities (Click to see some here) and accepting orders for custom, personalized scenes. Bring in one of your family's nativity figurines for a free consultation on how you can have a custom setting designed for generations to come. Call for times that the artists will be demonstrating.

The event is FREE and tickets are still available. For more information and tickets contact the Chamber at 215.348.3913 and ask for Brad Sanders.
27th Annual Byer's Bucks Fever Exhibition
Location:
Bucks County Gallery of Fine Art
Event Dates:
4/11/2013 - 4/21/2013
Reception:
4/11/2013
5 - 7pm
Come visit us during the 27th annual Central Bucks Chamber of Commerce Byer's Art Exhibition. Bucks County Gallery of Fine Art is hosting the 10 day event. 100 paintings and sculptures by artists either living or working in Bucks County PA will be on exhibit and for sale. The gala opening reception will be an event you won't want to miss.The show and sale runs through April 21, 2013. Checks, cash, and major credit cards are accepted.
"Realistic Visions"
Location:
Bucks County Gallery of Fine Art
Event Dates:
11/2/2012 - 11/30/2012
Reception:
11/10/2012
2:00pm - 5:00pm
Realistic Visions is an exhibit featuring Dot Bunn (Red Stone Barn), Laura den Hertog, Jody Furch, John Murdoch (Gold Light Studios), and Jason Tako, who are all exhibiting their representational paintings. The show is comprised of the finest representational oil and acrylic paintings by these recognized local, National, and International artists. Our focus is to exhibit high quality paintings that emphasize exceptional draftsmanship, use of color, composition, and a diversity in representational style and subject matter.

A total of five artists will be included in the month long exhibit. They will be attending the public cocktail reception Saturday afternoon from 2-5pm. One of the artists will be doing a demo/workshop with a live model.
Come join us, bring a friend and your sketch book to participate. You must register with the gallery in advance on a first come - first served basis.
In the Moment - featuring Christine Graefe Drewyer
Location:
Bucks County Gallery of Fine Art
Event Dates:
10/5/2012 - 10/28/2012
Reception:
10/6/2012
2:00pm - 5:00pm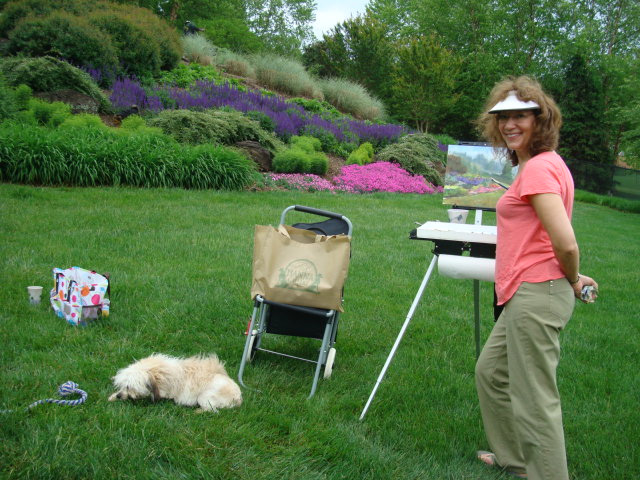 A new collection of oil paintings by award winning landscape artist Christine Graefe Drewyer will be featured at Bucks County Gallery of Fine Art from October 5 -the 28, 2012.

The show titled "In the Moment" is a metaphor for this body of work that is intended to portray an immediate sense of time and place.

The landscape is more than a geographical location. These pieces communicate a spirit of beauty which is created by the way that atmospheric conditions and light brings life to the paintings.

It is these very conditions which give the paintings their true value. This work evokes a connection to the land and imbues the viewer with a sense of timeless memory that can only be captured one moment at a time. The feature painting titled "The Messenger", a 30x24 oil on canvas, congers an indication of harmony between humankind and the natural world, instilling a feeling of hope and connectivity.

Also included in the exhibit will be some of Christine's still life and figurative paintings.
Join us for a cocktail reception hosted at the gallery on Saturday October 6, from 2-5 pm.
"Local Color Weekend"- Juried Plein Air Invitational
Location:
Bucks County Gallery of Fine Art
Event Dates:
7/26/2012 - 7/29/2012
Reception:
7/29/2012
2:00pm - 5:00pm
Local Color Weekend 2013 - now accepting entries - click here
Participating Artists:
Lauren Andreach, Paul Bachem, Jacalyn Beam, Michele Byrne, John Caggiano, Larry Chestnut, Sandra Corpora, Christine Drewyer, John Ennis, Raymond Ewing, Ellen Gavin, Ty Hodanish, Hai-Ou Hou, Jennifer Holmes, Peter Hunt, Ty Hodanish, Anne Kullaf, Renee Lammers, Kirk Larsen, David Lussier, Kevin Mizner, Larry Moore, Rae O'Shea, Jo-Ann Osnoe, Jane Ramsey, Marilyn Rose, Kerry Sacco, John Slivjak, Yelena Snovsky, Patricia Walach Keough, and Dennis Young.
Local Color Weekend 2013 - now accepting entries - click here
Dates: July 26, 27, 28, and 29. See artwork by some of the participants here: Local Color Weekend
See photos of the Award Winners Here: Award Winners 2012
A never before hosted in Bucks County art event - Local Color is an extended weekend Plein Air event being hosted by gallery owner Howard Cooperman at the Bucks County Gallery of Fine Art located in New Hope PA. Come watch art happen.
The event will be held Thursday July 26, Friday 27, Saturday 28, and Sunday 29, 2012. A reception and Wet Paint Gala Sale will take place on Sunday afternoon open to the public.
The schedule of events include:

Thursday July 26 - 8:00am - 6:00pm the artists arrive and begin to paint landscapes, architecture, river/canal scenes in New Hope. They will be painting Thursday, Friday, & Saturday

Friday July 27 - 8:00am - 6:00pm the artists continue painting our town.

Saturday July 28 - 1-3pm "Quick Draw" painting contest at the Parry Mansion Museum located at the
corners of Main & W. Ferry Streets. Watch as the artists engage in a fierce competition to finish a painting on the historic property in two hours. Immediately following, the artwork will be carried to the Bucks County Gallery Located at 77 W. Bridge Street for judging and a "wet paint sale". If you fall in love with a painting as it is being created, you are welcome to ask one of the gallery associates to assist in purchasing it on the spot. We're pleased to announce that Dot Bunn and Patrick Connors are the jurors for this event.

Saturday July 28 - 5-7pm a Preview Party and Cocktail Reception with the artists will be hosted at Bucks County Gallery. Guests will have the opportunity to pre purchase freshly painted artwork prior to the general public reception. Tickets are $20.pp and are still available by calling Howard at 215.862.5272.

Sunday July 29 - 2-5pm the Grand Opening Reception and Sale. It is FREE to the general public. All are invited to see and purchase any of the art created during the event while meeting the participating artists. Joseph Sweeney, instructor at PAFA and fine art plein air painter will be jurying this event.

You can request a favorite spot to be painted by contacting the gallery. They will match you with an artist who will paint the desired scene that day just for the asking.

The show and sale runs through August 26.
Special thanks to our Sponsors for helping to make awards, printed materials, and reception refreshments available.
Please support these businesses that have embraced "Local Color Weekend"


Plein Air Magazine
| | | |
| --- | --- | --- |
| Bitter Bob's BBQ | Marsha Brown Restaurant | Logan Inn |
| Savioni Designer Boutique | Stephan House Inn | PNC Bank New HopePA |

Bar-cadia - A select group of Bar and Tavern interiors by Steve Messenger
Location:
Bucks County Gallery of Fine Art - New Hope PA
Event Dates:
6/1/2012 - 6/30/2012
Reception:
6/23/2012
5:00 - 8:00PM
Bar-cadia is an art exhibit running in concurrence with the Philadelphia Museum of Art's exhibit "Arcadia". Steve Messenger has gone to some of Philadelphia and Bucks County's well known bars to portray the moods set in each of the establishments referenced. Whether its the Logan Inn located in New Hope or Jack's Fire House in center city Philly, you'll feel as though you're sitting right there in the beautifully illuminated, warm surroundings of each bar and tavern.
Join us for the reception on Saturday June 23, from 5-8pm for refreshments, great art, and conversation. Bring a friend!
Bright Colors Deep Texture
Location:
Bucks County Gallery of Fine Art
Event Dates:
1/7/2012 - 1/31/2012
If you love, appreciate, or collect fine art - this is an exhibit you'll want to see. Discover how easy is is to fall in love and own great artwork for your home or office.
George Gallo and Arlon Rosenoff's oil paintings are being featured in the Grand Salon this month. Both artists paint with heavy strokes. Seattle native Rosenoff only makes use of a palet knife in his richly colored oil paintings, and Gallo although mostly uses a brush painting his impasto Bucks County Impressionistic Scenes.
Treat yourself or a loved one to one of these original artists work. We offer "6 Easy Payments" to own your new artwork by any of the 40 artists we represent from across the United States.
Free local delivery is also available. Planning a visit to New Hope? Make an appointment for a private showing. You can also book a PRIVATE Wine & Cheese PARTY for you and 15 friends. Call Howard to make arrangements at 215.862.5272
Jeanne Bessette Exbibit and Painting Demo
Location:
Bucks County Gallery
Event Dates:
10/1/2011 - 10/30/2011
Reception:
10/1/2011
2:00 - 6:00pm
September 1, 2011 (NEW HOPE, PA) – Bucks County Gallery of Fine Art in New Hope, PA, will open a major exhibition of recent works by contemporary abstract artist Jeanne Bessette. titled "Figuratively Speaking". The artist's reception will be held on Saturday, Oct. 1, from 4 - 6 p.m. The event will also feature a live painting demonstration on Saturday afternoon between 2 - 4 pm. The show runs through October 30.

Her current works have evolved from her pure abstracts which, she says, provide "the "homes" and landscape in which her figures live and breathe. According to Bucks County Gallery owner and director Howard Cooperman, "Bessette's process reveals itself in layers of complicated emotions, childlike wonder and limpid transparency. Her works are vibrant, glowing and seemingly alive."
Cooperman describes the 20 plus canvas pieces in the show as "powerful, playful and must-haves. She shares all of herself and holds nothing back. She's prolific, to be sure – with growing interest in her work nationally."
"If you've ever kicked yourself for missing an artist on the upswing before they achieve national prominence, take advantage of this opportunity to meet Jeanne Bessette now," Cooperman advised.

Join us for a cocktail reception featuring Jeanne's most recent paintings and meet her on October 1st between 2 & 6pm and watch as she completes a painting live before your eyes. The show runs October 1 - 30.
Bucks County Gallery Fine Art Festival
Location:
Bucks County Gallery of Fine Art
Event Dates:
9/24/2011 - 9/25/2011
Reception:
9/24/2011
10am - 5pm
Join Bucks County Gallery as we celebrate the artist with a group exhibit featuring all 40 of the finest painters and sculptors represented under one roof. Discover fine art you'll fall in love with - GUARANTEED! Take art home on approval, if you don't like it for any reason, bring it back for a full refund - no questions asked.
You'll find landscapes, still life, representational, surreal, impressionistic,
This event coincides with the New Hope Arts and Crafts Festival in the Union Square Shopping Center, just across from the gallery. Look for the white canopy in our parking lot, and visit. Bring/tell a friend.
The featured oil painting above is by George Gallo - American Impressionist, screenwriter, director, and actor. He's written and directed movies such as Bad Boys, Wise Guys, Midnight Run, and others.
Go Figure! Figurative Oil Paintings by Dot Bunn
Location:
Bucks County Gallery of Fine Art
Event Dates:
9/10/2011 - 9/30/2011
Renowned Bucks County Artist Dot Bunn Opens Major Figurative Painting Exhibit at Bucks County Gallery of Fine Art.
September will see the return of a major exhibition of figurative art by nationally acclaimed artist Dot Bunn. Bucks County Gallery of Fine Art located in New Hope PA will host this exhibition when it returns from the state capitol. During August, twenty three oil paintings of figurative art were part of an invitational exhibit at the Art Association of Harrisburg. The September display in New Hope will feature four award winning paintings as well as many previously unseen works before the Harrisburg show. They will be exhibited September 9 - 30 in the gallery's Dutch Room.
The gallery is open Monday - Saturday 10am - 5pm and Sunday Noon - 5pm